Bridge Water Inn Accommodations
Bridge Water Inn has 8 rooms plus a Cottage.
We might be a small Inn, but we're really big on rooms – and views!
All suites and rooms boast individually controlled air conditioning, cable TV and private bath.
Our suites (1, 2, 3, 4 and 5) have fully equipped kitchens with dining area.
Standard rooms (5b, 6, 7 and 8) have a kitchenette with mini-fridge, microwave and coffeemaker.
Each suite and room is a little different and price is dependent on size, view and amenities. The Inn has dockage for boats* and a lower deck for fishing, sunning and simply enjoying the beautiful views.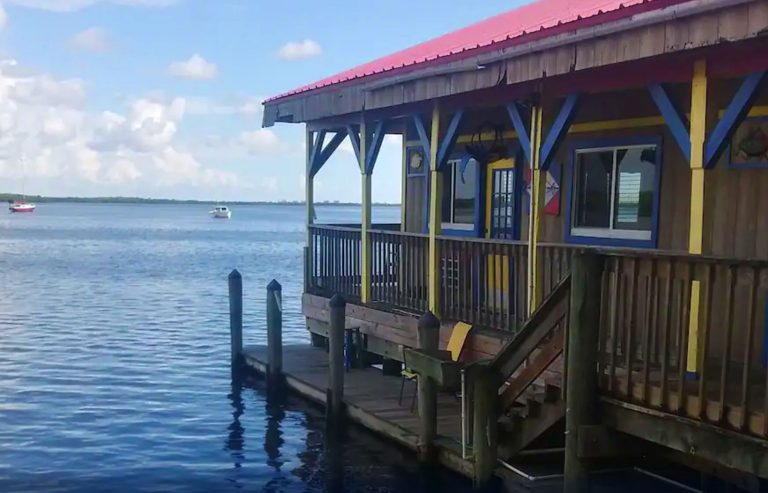 *Dockage is available at an additional fee and must be reserved in advance, as we can accommodate only a limited number of boats.
This is our largest suite at over 500 sq. feet and there's no missing the amazing views from the three sliding glass doors! Just outside the doors is your fishing deck, while the inside is inviting and tropical, with a flat screen TV in the living area, dining table for six and fully equipped kitchen. This suite has a separate bedroom with a queen and a double bed and bathroom.
Suite 4's spacious rooms face west with beautiful, open water views of the Matlacha drawbridge. The interior features a comfortable living area, kitchen with dining table, and two full beds that are divided from the living area by a half wall.
Suite 5 is quite spacious with rooms facing west, giving beautiful, open water views of the Matlacha drawbridge. Inside you'll find a living area, kitchen with large dining space and two full beds. This room is a great choice if you are coming with another couple or larger group, as it can be opened to join with room 5B for additional sleeping space.
Our Water View Cottage is comfortable and private with access to all features of the Inn.
Overlooking the water, you'll find a bedroom with a full size bed, living room with a sleeper sofa, kitchen, private bathroom, washer & dryer, private patio and boat dock.
Photo By Airborne Pilot – This file has been extracted from another file: Aerial view of old Matlacha Bridge and part of West Island in 2008.jpg, CC BY-SA 2.0, https://commons.wikimedia.org/w/index.php?curid=58274346